Contact
regarding pricing
Subsidence affecting your property? - The fast alternative to Underpinning
The clean, hassle-free solution to subsidence & sinking floors
Work completed in just 1-2 days
Clean and easy, no need to move out
Modern alternative to underpinning
Certificate of structural adequacy issued
Step by step: how do we resolve subsidence in 1-2 days?
1.
Our experts drill holes in the affected area
At just 16mm they're typically the size of a 10p and often we don't need internal access
2.
We inject a special geopolymer resin
In a quick and easy process the material will expand and harden to support the property.
3.
The resin instantly hardens like concrete
Within just 15 minutes the resin has expanded to fill any voids and stabilise the ground
4.
The property is raised and foundations stabilised
You'll see the results instantly. Often cracks disappear and doors unstick if we raise the property.
Can Geobear help me?.
Our geopolymer solution can treat almost all subsidence issues, on many occasions we can close cracks in addition to stabilising the structure and prevent further movement. Typical signs of subsidence which we can resolve include:
Cracks in internal or external walls
Before
After
Floor settlement, sinking floors
Before
After
Stuck doors and windows
Before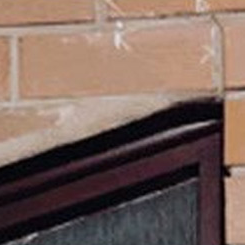 After
Extensions and conservatories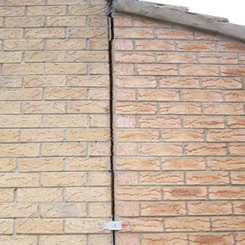 Before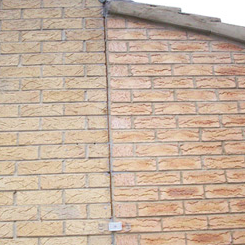 After
Why Choose Geobear?
Repairs take just 1-2 days
Unlike traditional underpinning, which can take months, we typically complete the job in just 2 days, with minimal disruption
Our work is guaranteed for ten years
You'll receive an insurance-backed guarantee for the work, which can be passed on if you sell the property.
BBA Agrément Certificate
Our process and solution is certified by the British Board of Agrément. This is regulated quality assurance by the UK construction sector.
Certificate of Structural Adequacy
Our solutions are approved by a Chartered Engineer and you will receive a Certificate of Structural Adequacy accepted by insurers and mortgage providers.
Clean and simple - no digging
Because we only need to drill small holes
to insert the geopolymer, you don't have to move
move out or move furniture.
We've been treating subsidence for over 40 years
We invented the geopolymer injection process and have treated 200,000 properties worldwide. Nobody knows more about it than we do.
Find out more with our Free Residential Subsidence Guide
See Geobear in action.
Channel 4's "Help My House is Falling Down"
In 2016 we featured on Channel 4 when we were chosen (under our old name Uretek) to repair subsidence on Frank's property in London. Find out why their surveyor recommended us and how our process saved them thousands of pounds and many days of disruption.
3 Bed Semi-Detached House in Croydon
Find out how we saved time, money and disruption when resolving subsidence due to broken drains.
"Within a couple of days they're done and dusted and away and we can get on with our job."
Detached House in Essex
Find out how we resolved subsidence caused by trees and shrubs.
"Compared to a traditional underpinning this was a fraction of the time and a fraction of the cost"
The process explained
This short animation explains the process with Geobear to repair your property.
"We will assess your home and provide a free quotation for the works"
Personal Service Nationwide
Personal Service Nationwide
Difficult to access site? We just need to park our truck outside and use 100m hoses to deliver the resin. We can work on even the hardest to access sites.


Get in touch to find out how we could help you and to arrange a free site visit.
Faster, cheaper and less hassle than traditional underpinning.

Geopolymer Injections

Traditional Underpinning

Typical operating time

1-2

days

14-60

days

Process

Drilling small injection holes
Injection of geopolymer resin
Filling the holes and cleaning up

Excavation of soil under and around the property to a depth of 1-2m
Pouring in new foundations or add piles
Waiting for the concrete to set
Cover the new foundations
New landscaping and replace paths / driveway

Disruption

✔️ No need to move out

✔️ Our truck can park on the road upto 100m away from the property

✖ Often having to move out for the duration of the work

✖ Often the need to empty rooms and raise floors

✖ Needed access for construction equipment

✖ Large, disruptive earthworks

✖ Skip needed to remove soil

✖ Significant noise and mess caused by digging

Costs of the procedure

££

Depends on the property – contact us for a FREE quote

+£££

Depends on the property and the contractor

Other costs

Repairing damaged tree drains/roots that caused the problem
Crack repair and decoration

Repairing damaged tree drains/roots that caused the problem
Crack repair and decoration
Accommodation costs during the works
Landscaping costs, relaying paths

Property resale value

There is no need to declare the works

100%

market value

Must be declared as previously underpinned property where. Such properties often sell for

80%

market value

Insurance

There is no need to declare the work carried out

related to the repair of foundations or soil

Few insurers accept PUPs

Up to 500% increase in surplus

Significantly increased premiums
FAQ - Frequently Asked Questions
The soils beneath the foundation will be stabilised to prevent further movement (subsidence). In many cases, the expansion force of our geopolymer can also lift the structure and you could see cracks close and windows and doors will function properly.
Generally, yes. But each project is different and the time depends on the stabilisation required, the scale of the area needing repair, and ground conditions. Most projects are fully completed within 1-2 days.
No. We usually do our work outside the property, so you can carry on as normal. On occasion, we may need to enter the property to treat or monitor depending on the requirements.
Geobear (formerly Uretek) has completed over 200,000 projects worldwide over the last 40 years. We have completed more than 11 000 residential projects in the UK, Finland, Sweden and Poland. We have strengthened residential buildings, industrial facilities and infrastructure.
Little, if any. Our geopolymer resin is injected through small holes drilled into the ground. It's a bit like "keyhole surgery," so there will be minimal excavation, disruption and mess. On the other hand, the work is unobtrusive and non-invasive enough that you can carry on with your normal home life while it's happening, without having to move.
YES, the work is covered by an insurance guarantee that you can transfer if you decide to sell the property.
Our resin is inert and has no harmful effect on the environment.
The work on your property will be conducted by our experienced technicians.
Yes, you will receive a certificate of structural adequacy (CSA).